Choose your Dip Destination

This spring, avoid the exacerbated airfare prices and leave your neck pillow at home as the ¡Yo Quiero!™️ Family takes your taste buds on a trip with some titillating twists and tributes to some of the world's favorite cuisines.
Below you will find some of our favorite recipes that pay homage to piquant flavors found around the world and now in your fridge!
Destination: Tropical
Our first stop in the tropics features these delicious shrimp tacos with mango salsa featuring pan-fried shrimp, fresh mango salsa, and creamy guacamole, all inside a warm flour tortilla. Plus, it's an easy, healthy, flavorful, and delicious meal ready in just 20 minutes.
Are you looking to put a tropical twist on your typical tostada? These tostadas feature a beautifully seared scallop and our delicious Mashed Avocado, leaving you feeling like you've spent the day beachside.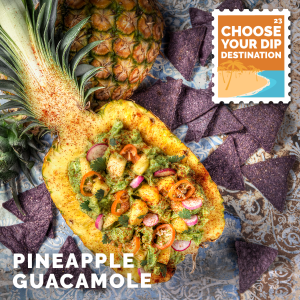 More often than not, when we open our delicious ¡Yo Quiero!™️ Original Guacamole there isn't much time before the container is empty. So believe us when we say that this tropical twist of pineapple and spices is well worth the willpower.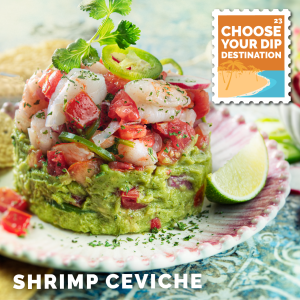 This excellent Shrimp Ceviche is as fresh as a cool breeze from the ocean on a warm summer day! It is light, easy, and refreshingly full of seafood goodness, avocado, red onion, jalapeno, and our oh-so-delicious ¡Yo Quiero!™️ Mashed Avocado.
Destination: Italy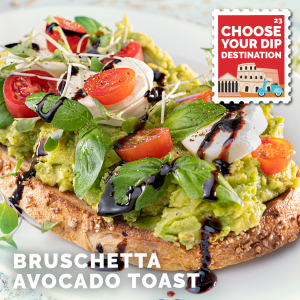 Bring your avocado toast to Tuscany with this Bruschetta Avocado Toast that couldn't be more light, refreshing, and nutritious. The creaminess of our delicious ¡Yo Quiero!™️ Mashed Avocado and mozzarella pairs perfectly with the acidity from the balsamic and cherry tomatoes.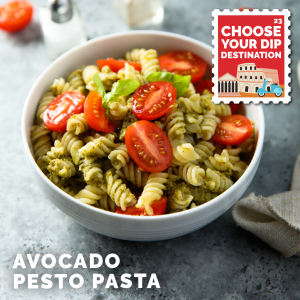 This Avocado Pesto Pasta is the perfect weeknight meal that combines our favorite things: Elegance and convenience. This recipe features a tiny twist from the Genoa classic pesto with our ¡Yo Quiero!™️  Mashed Avocado that adds a flavorful twist to a beloved classic that couldn't be easier to throw together.
Spinach Artichoke dip is an American appetizer staple. While many Americans tend to have pasta as a main dish, more often than not, pasta is served in a small portion as the first "primo" course at the beginning of the meal. This Spinach Artichoke Pasta can be the star of your weeknight dinner as we combine and Americanize with our own ¡Yo Quiero!™️ twist!
Destination: New Orleans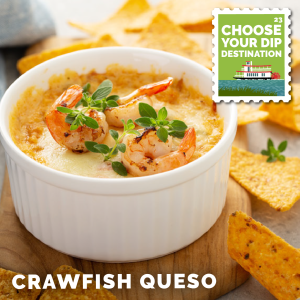 It's Crawfish season here in the south, and there is no time to waste! So get a taste of the Big Easy with this Crawfish Queso Dip! Perfect for Mardi Gras, tailgating, or any Mexican meal. It's extra creamy and can be made in under 15 minutes.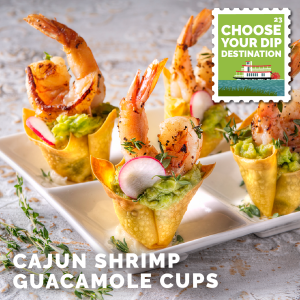 CAJUN SHRIMP GUACAMOLE CUPS
This dish combines two flavor icons revered worldwide with a delicious cajun-Asian fusion. Crispy wonton cups are filled with our perfectly creamy ¡Yo Quiero!™️ Original Guacamole, then topped with a delightful Cajun seasoned shrimp for a well-balanced kick to the taste buds.
Destination: Mediterranean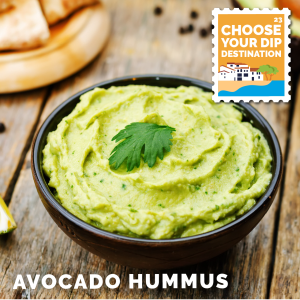 You may have noticed by now, but Dip Destinations are all about adding a little ¡Yo Quiero!™️ twist to our favorite cuisines around the world. This recipe adds a little ¡Yo Quiero!™️ flair to a Lebanese classic with a quick and straightforward Avocado Hummus.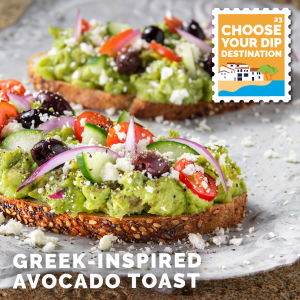 Last but certainly not least is a Greek-Inspired Avocado Toast similar to the beloved traditional avocado toast with Greek salad toppings that offer a flavor profile Achilles himself would enjoy. While this nutrient-packed and heart-healthy dish may not make you a demi-god, you will undoubtedly be left craving more and more!