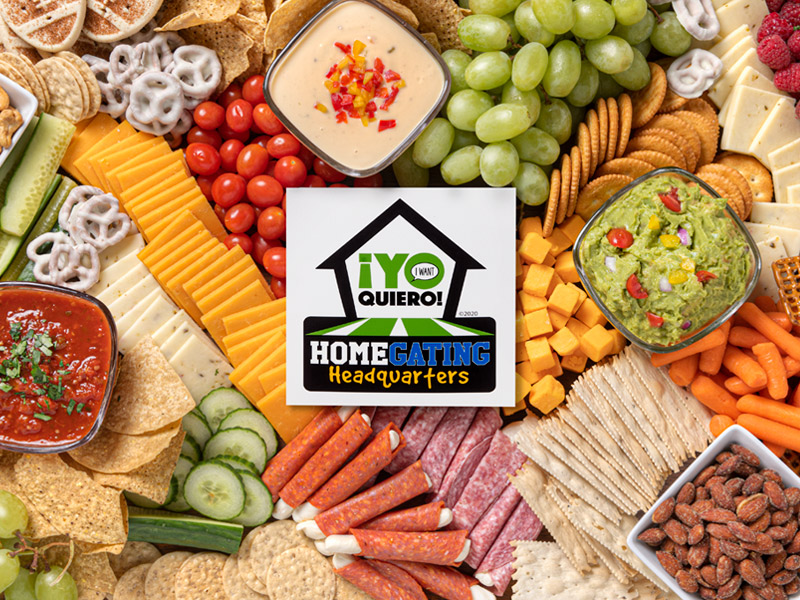 ¡Yo Quiero! Brands Announces Homegating Headquarters
Growing snack brand offers recipes and resources for safely tailgating from home.
October 29, 2020 – ¡Yo Quiero!, a Texas based brand, specializing in guacamole, queso and salsa, is spicing up football season with Homegating HQ, a newly launched virtual resource for tailgating from home. With limited game attendance, fans must find fun and creative ways to watch their favorite sports from the comfort of their couch. YoHomegatingHQ.com was created to share ideas on throwing great tailgating parties from home. Whether it's outdoor kitchen inspiration, tailgating recipes or party planning tips, Homegating HQ is a playbook for the perfect watch party. The site also provides games, printables and tips on creating individual servings and contact-free foods for socially distanced get together.
"Football Season looks a little different this year, when every game is a home game. Homegating is a great opportunity to bring fans, family and food together. We launched YoHomegatingHQ.com to make party planning safe, easy and fun," said Jay Alley, VP of Sales, ¡Yo Quiero! Brands.
¡Yo Quiero!'s authentic Mexican flavors and Texas traditions were a hit as they launched in grocery stores across the nation. Today, the foodie-centric company, focused on small-batch recipes, has grown its distribution and developed private-label contracts with top-tier retailers. The brand also recently landed a five year deal with the Dallas Cowboys, including: in-stadium sampling, press and co-branded in-store packaging. The limited edition Dallas Cowboys products are intentionally packaged in larger sizes for homegating convenience and are currently available in stores including Albertsons, United, Tom Thumb and now Walmart.
The current product line up can be viewed here and includes: guacamole, super chunky, 100% avocado, avocado salsa, queso and traditional red salsa as well as large format and snack sizes. For additional information, recipes or product availability, please visit ¡Yo Quiero! Brands or follow ¡Yo Quiero! Brands on Instagram.
About
¡Yo Quiero! Brands is a Texas based company with facilities in Rhome, Texas and Guanajuato, Mexico. With a mission of selecting and growing the freshest and finest ingredients, the brand is vertically integrated, starting with their avocado trees and harvesting the finest fruits to create delicious, hand-crafted products seen at your local retailer. Bringing years of experience to the table, ¡Yo Quiero! leads and innovates with integrity and passion, to create healthy and accessible offerings. The current line up of handcrafted super chunky avocado, avocado salsa, queso and salsa can be viewed here. For additional information, recipes or product availability, please visit ¡Yo Quiero! Brands or follow ¡Yo Quiero! Brands on Instagram.
Media Contact:
Tara Murray
Vice President of Marketing
Fresh Innovations, LLC
tmurray@freshinnovationsllc.com