Veggie Frittata with Queso
This cheesy veggie frittata is a great excuse to invite family and friends over for brunch. Use whatever vegetables you have on hand. They cook up in a flash to be served hot and bubbly from the oven or at room temp with good bread and a salad.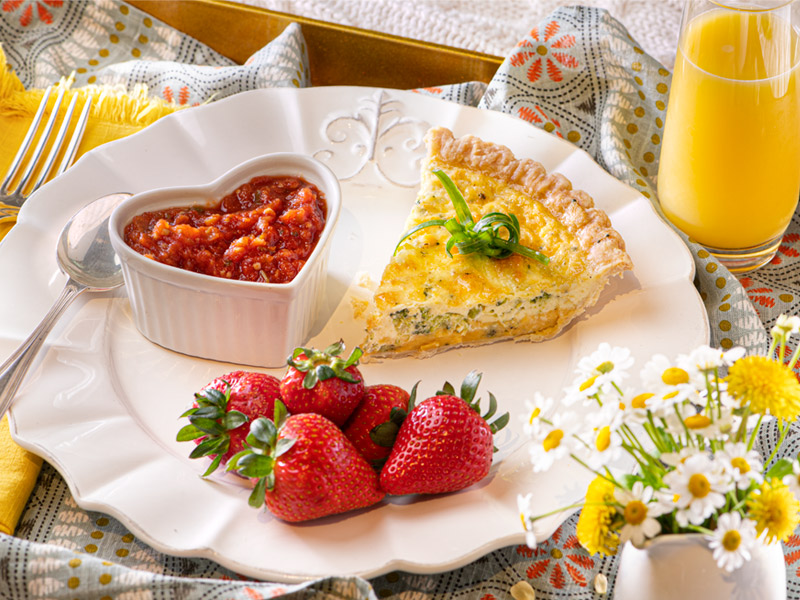 Print Recipe
Spring Veggie Frittata with Queso
This frittata is packed with veggies and is super easy to make. It's a great recipe to add to your Easter or Mother's Day menu and is equally perfect for keto meal prep.
Ingredients
4

oz

prosciutto

1

tbsp

unsalted butter

8

oz

sliced mushrooms, chopped

6

asparagus spears, woody stems removed and cut into 1-inch pieces

4

green onions, sliced

2

garlic cloves, minced

8

large eggs

2

tbsp

heavy cream

1/4

tsp

salt

1/4

tsp

pepper

3

cups

baby spinach

1

tsp

olive oil

1/2

lemon, juiced

1

12 oz

package of ¡Yo Quiero!™️ 4 Pepper Queso
Instructions
Preheat the oven to 375° F

Heat a 10-inch oven safe skillet over medium heat. Add the prosciutto slices (it's okay if it's torn into pieces!) and cook it until it is crispy on all sides. You want it to look like bacon. Remove the prosciutto and place it on a paper towel.

Add the butter to the skillet. Add the mushrooms and cook until softened, stirring often, about 5 to 6 minutes. Add the asparagus and green onions to the skillet and toss well. Cook until slightly softened, about 5 minutes. Stir in the garlic.

While the veggies are cooking, whisk together the eggs, heavy cream, salt and pepper.

Drizzle a few spoonfuls of the ¡Yo Quiero!™️ 4 Pepper Queso over the veggies in the skillet, tossing gently. Add the prosciutto back into the skillet. Pour the egg mixture over top and spoon the rest of the queso over the eggs. Bake until the eggs are set and the cheese is golden, about 20 to 25 minutes. You can broil the last minute or two on high to get the cheese a little bubbly and crunchy.

Toss the spinach with the olive oil, lemon juice and a pinch of salt and pepper. Pile it on top of the frittata before slicing and serving!
Share What You Make
TAG @YOQUIEROBRANDS ON INSTAGRAM WITH YOUR CREATIONS! WE LOVE SHARING WHAT YOU MAKE WITH THE COMMUNITY!
we can't wait to see!