Mexican Shrimp Cocktail
This Mexican Shrimp Cocktail is perfectly tart, spicy, and fresh! Cold and refreshing this is a perfect dish for a hot day!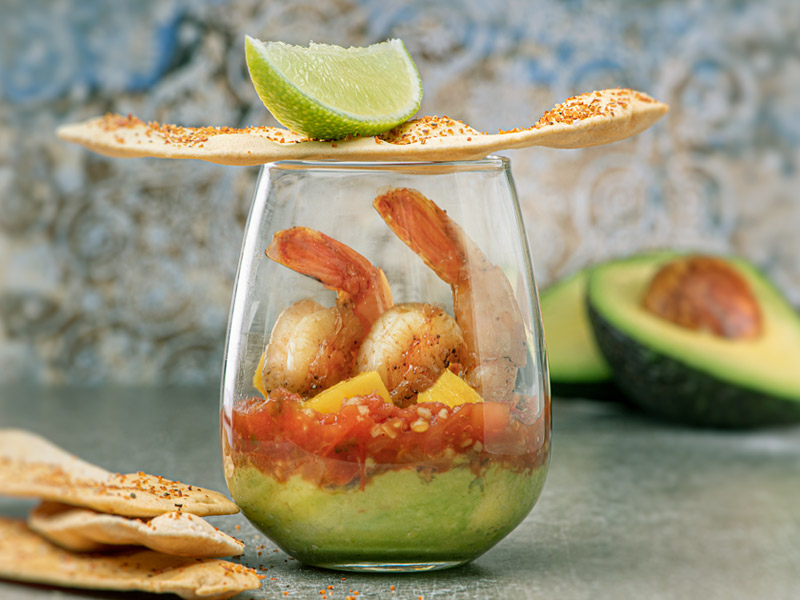 Print Recipe
Mexican Shrimp Cocktail
Learn how to make a perfect shrimp cocktail at home, including your own homemade cocktail sauce and how to cook the shrimp so that they're tender, juicy and delicious.
Ingredients
1

lb

Shrimp, (medium) peeled and deveined

1

Jalapeno, seeds & membranes removed, diced

2

cups

¡Yo Quiero!™️ Medium Salsa

2

cup

Bottled Chili Sauce

2

tbsp

Prepared White Horseradish

1

tbsp

Canned Chipotle Chilies, chopped

2

cups

¡Yo Quiero!™️ Chunky Avocado
Instructions
Bring a medium size pot of water to boil (can add any aromatics as desired: onion, garlic, cilantro, lemon juice, etc). Add the shrimp and cook for 2-3 minutes until the shrimp is pink in color. Remove the shrimp from the water and place in an ice bath or rinse with cold water.

Mix first 3 ingredients in medium bowl. Mix in 1 tablespoon chilies. Taste, adding more chilies if a spicier flavor is desired.

Layer the avocado and cocktail salsa into a stemless wine glass or small cup. Top with 2 to 4 shrimp and enjoy!
Share What You Make
TAG @YOQUIEROBRANDS ON INSTAGRAM WITH YOUR CREATIONS! WE LOVE SHARING WHAT YOU MAKE WITH THE COMMUNITY!
we can't wait to see!