Sip and Dip into Summer Round 2
It's National Wine Day and Summer is right around the corner, meaning it's time to Sip and Dip your way into summer, round 2! This is Yo Quiero's perfect guide for wine enthusiasts and foodies who love to indulge in delicious dips during the hot summer months. Whether hosting a backyard BBQ or looking for a refreshing snack to cool off, dips are the perfect option. And what better way to enjoy them than with a glass of wine that complements their flavors? This year, we are highlighting some of our newer dips and favorite classics so you can have every combination possible.
So grab your favorite bottle of wine, put on your shades, and let's dive in!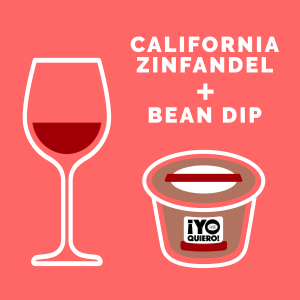 Excite your taste buds and pick up a bottle of red wine to pair with Yo Quiero's Bean dips!  The pairing possibilities are endless with Yo Quiero's bean dips!  Try pairing a lighter red wine (blend) from Portugal (like a red Dao) or Spain to pair with the spicy bean dip or a robust California Zinfandel.  The California Zinfandel will provide an excellent juicy round wine, baking spices, and notes of red licorice with good acidity for a perfectly paired finish.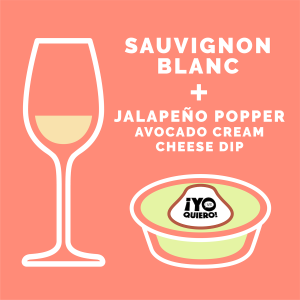 Avocado Cream Cheese Jalapeño Popper Dip:
Make your way to the cold box and pick up a dry white wine to pair with Yo Quiero's Avocado Cream Cheese Jalapeño Popper Dip or your own Jalapeño Poppers filled with Yo Quiero's spread!  A Sauvignon Blanc from France with its cooling citrus, lemon, and gooseberry notes with a crisp finish will pair perfectly with Yo Quiero's Avocado Cream Cheese Jalapeño Popper Dip!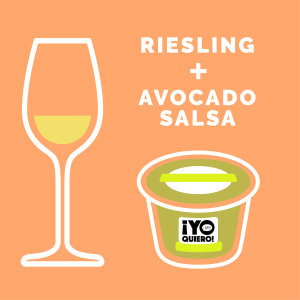 Riesling in its many forms is what you want to reach for to pair with Yo Quiero's Avocado Salsa!  Pickup a dry German Riesling for a light, crisp finish with hints of peach and candied lemons that leads to a savory mineral finish with Avocado Salsa! A sweeter Riesling with notes of honey and ginger still provides a nice bright, zippy finish to pair with Avocado Salsa!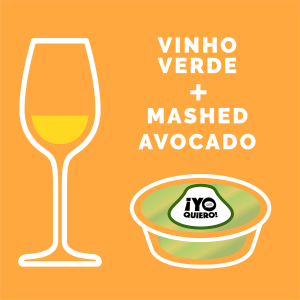 A dry white wine like a Vinho Verde from Portugal or a New Zealand Sauvignon Blanc is an ideal wine to pair with Yo Quiero's healthy mashed avocado!  The irresistible combination of the avocados' saltiness and acidity with the refreshing and light notes of lemongrass and grapefruit from a New Zealand Sauvignon Blanc is pure harmony.  Vinho Verde wines are less pronounced than Sauvignon Blanc with great white melon, lime citrus, and gooseberry notes!