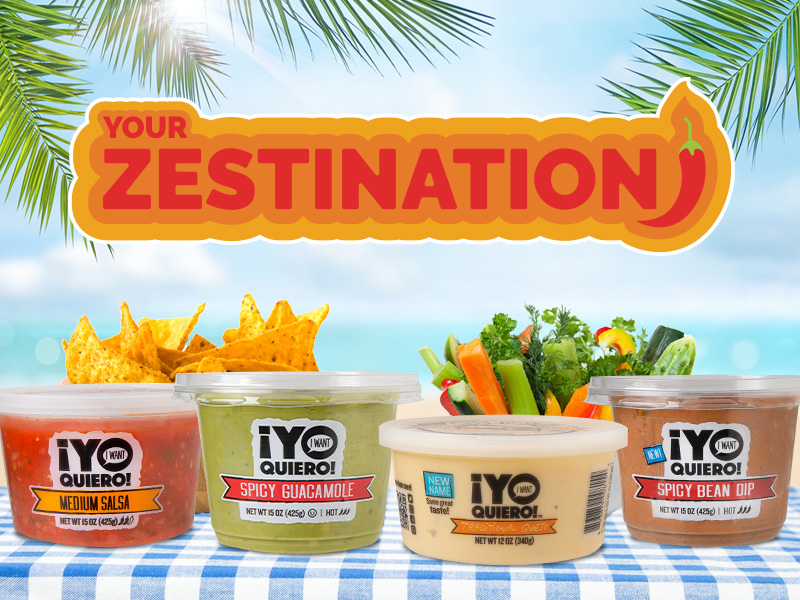 Zesty Summer Recipes
Welcome to a scorching summer adventure filled with tantalizing flavors and fiery sensations! As the temperatures rise, there's no better way to embrace the sizzling season than by exploring the vibrant world of zesty recipes. Join the ¡Yo Quiero! family on a journey where we'll introduce you to an array of mouthwatering dishes featuring ¡Yo Quiero!'s line of products that pack the most zest.
Whether you're hosting a backyard BBQ, planning a poolside fiesta, or simply seeking to add a zing to your everyday meals, this is your ultimate destination for unleashing the true essence of summer zest. Prepare to indulge in bold flavors, discover delightful combinations, and unlock the potential of these ¡Yo Quiero! spicy products that will leave your taste buds craving more.
Are you ready to take your mac and cheese game to a whole new level? If so grab your apron, gather your ingredients, and get ready to create a culinary masterpiece with our Zesty Loaded Mac and Cheese recipe featuring ¡Yo Quiero! Traditional Queso. With each forkful, you'll experience the perfect balance of cheesiness and zesty heat that will make your taste buds sing.
Crank up the heat of your appetizer game with this Loaded Bean Dip, which is sure to have you sweating inside and out. With a base of our ¡Yo Quiero! Spicy Bean Dip as the star ingredient, your snacking game will never be the same.
The ultimate twist on a classic brunch favorite – the Salsa Bloody Mary! Prepare for a flavor explosion as we infuse the iconic Bloody Mary with the zesty goodness of ¡Yo Quiero! Medium Salsa. This invigorating cocktail will awaken your taste buds with a harmonious blend of tangy tomatoes, vibrant spices, and a touch of zesty heat.
Zest up your BBQ game as succulent chicken pieces marinated in the vibrant ¡Yo Quiero! Medium Salsa take center stage. Enjoy a mouthwatering fusion of juicy, tender chicken infused with the salsa's zesty spices and tangy goodness.
Embark on a tropical journey with our tantalizing recipe for Spicy Mango Guacamole! Experience a fiesta of flavors as the luscious creaminess of our ¡Yo Quiero! Spicy Guacamole merges with the sweet and tangy essence of ripe mangoes. This fusion of ingredients creates a vibrant and refreshing guacamole with a zesty twist that will transport your taste buds to a sweet heat paradise that is more pleasant than the radiating summer heat.
Sink your teeth into these golden, flaky pockets of goodness filled with savory seasoned beef, onions, and spices that will transport your taste buds to flavor heaven. To elevate the experience, we've carefully selected ¡Yo Quiero!'s Chunky Spicy Guacamole, adding a creamy and zesty kick, and ¡Yo Quiero!'s Medium Salsa, with its vibrant blend of tomatoes and authentic spices.
Zest not. As you have most likely reached the peak of zesty indulgence, it's time to take it down a notch! Prepare your taste buds as you cool down with some equally delicious but much cooler recipes to soothe your taste buds after too much fun playing in the heat.
Cool down your taste buds and be amazed as the smoothness of avocados blends seamlessly with the richness of cocoa, creating a luxurious frozen treat that's both velvety and refreshing. With every spoonful, you'll experience a harmonious balance of flavors and a delightful hint of natural sweetness.
Looking for a nutritious way to cool down those zested-out taste buds? This delightful bowl combines the antioxidant-rich acai berries with the smooth and nutritious power of avocados, delivering a sensational breakfast or snack option that will energize and satisfy you.