Yo! on the Go! Road Trip Tips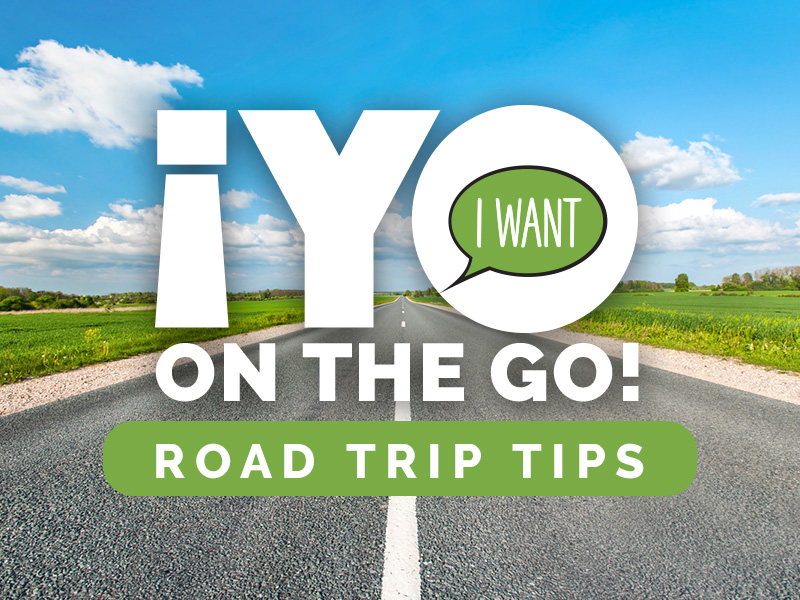 Spring break is right around the corner, and with some of us feeling a little too much March madness from hiding inside due to the frigid winter weather, now is a perfect time to get away. Spring break has long been a favorite time for families to participate in a classic American road trip.
While road trips can offer affordable scenic views and quality family time, they can also become quite painstaking – especially if you have younger kids. While the occasional pitstop is usually enough to appease the masses in the back seats, they can start to get expensive after a while, and its best to avoid tampering with dad's ETA.
Lucky for you, the ¡Yo Quiero! family has mastered the art of long-distance travel and compiled our top 10 road trip tips for an easier travel experience.
Tip #1: Pack a Cooler
When you're on the open road, the last thing you want to have to do is pull over for something as simple as a little snack or a bottle of water, especially if you have a picky eater who isn't guaranteed to like everything at the nearest convenience store. Packing a cooler full of everyone's favorite healthy snacks (hello ¡Yo Quiero! minis) and beverages ensures you stay on "dad time."
Tip #2: Healthy Alternatives
Convenience stores are full of highly processed foods that are more convenient than they are nutritious. Packing healthy snacks like fruits, veggies, veggie straws, rice chips, and cheese crisps to pair with our oh-so-tempting ¡Yo Quiero! dips can make eating healthy fun!
Tip #3: Trash Disposal
While looking around to find a car floor covered in plastic baggies and bottles can be a great motivator to realize your need to recycle, it may make it a little difficult to jam out to your expertly crafted road trip playlist with the constant crinkling and crunching going on. To avoid this, create a mini trashcan by hanging a plastic bag on the back of the driver's seat, and hooking it underneath the head rest so kids can easily throw away trash.
Tip #4: Portion Control
If your family is anything like ours, snacking has become a crowd-favorite activity all its own. Prepackaged and portion out snacks in little baggies or plastic containers to keep snacks in healthy portion sizes. Our ¡Yo Quiero! Mini Cups make it easier than ever to have prepacked rounds of deliciousness.
Tip #5: Activities
While there will certainly be parts of your journey filled with entertaining things to look at, sometimes the view out the window can get pretty lackluster. Be sure to pack an activity bag for the kiddos with books, coloring books & crayons, and free activity printouts to help them learn about your trip destination.
Tip #6: Games
Is it really a road trip without the classic family games? Family fun games like "I Spy" or the license plate game (count how many different state license plates you see) or the Alphabet Game (take turns finding billboards/signs that start with each letter of the alphabet, and see if you can get them all in order) can make the time fly a little easier.
Tip #7: Be Prepared
Road trips are one of those situations' dad can turn around and say, "better to have it and not need it than need it and not have it" and actually be right. Have a Road Trip Emergency kit with emergency items like bandages, first aid, baby wipes, bug spray, suntan lotion, etc.
Tip #8: Get Movin'
With all your healthy and nutritious snacks and ¡Yo Quiero! Dips to it's important to take 10-15 minutes at rest stops along the way to let kids get their energy out – pack a ball to kick around!
Tip #9: Organization
Eliminate some of the plastic baggie usage by implementing snack boxes to pre-pack & store healthy lunches for on the road.
Tip # 10: Restock Supplies
More than likely, your journey to paradise has depleted most of your snack supplies. Find hotels with mini-fridges and locate the closest grocery store to your location so you can stock up on healthy snacks for the way back too!