Beef Empanadas
Not only are these Beef Empanadas super tasty, but they're the most perfect finger food! Perfect for Cinco de Mayo, watching the game, or taking on a picnic.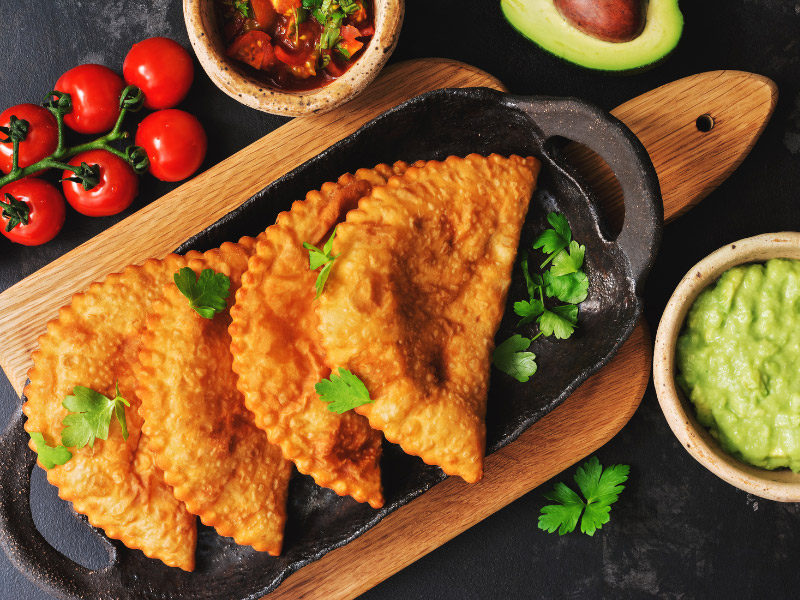 Print Recipe
Beef Empanadas
These little flaky delights are filled with seasoned beef, onions, garlic, cheese & sun-dried tomatoes and served with our crave-inducing guacamole and salsa.
Ingredients
2

oz

Lard, melted

3

cups

Flour

1

cup

Hot Water

3

tbsp

Neutral Oil

1½

lbs

Ground Beef

1

Red Onion, finely diced

2

cloves

Garlic, minced

¼

cup

Spanish Olives, minced

2

Red Holland Chili Peppers, minced

2

Sun-Dried Tomatoes, minced

2

tsp

Cumin

½

tsp

Paprika

¼

tsp

Cayenne Pepper

¼

tsp

Annatto Powder (optional)

¼

tsp

Chili de árbol (optional)

¼

tsp

Sugar

½

tsp

Salt

¾

cup

Water

3

tbsp

Tomato Paste

8

oz

Cheddar Cheese
Instructions
In a mixing bowl, add the melted lard, flour, and hot water. Mix until it comes together into a smooth ball of dough, adding a little more flour if necessary. Refrigerate the dough for one hour.

In a frying pan add the oil and put on medium-high heat and cook the ground beef. Add in the onion and garlic and cook until translucent. Next, add the Spanish olives, chili peppers, sun-dried tomato, spices, sugar, and salt. Stir to combine, and let cook for an additional few minutes.

Add the water and bring it a boil. Add the tomato paste, stirring the entire mixture thoroughly to dissolve it, and let cook until the water has cooked off and the filling has thickened. Remove from the heat and cool completely.

On a clean, floured work surface, roll the dough into a 1/8-inch layer. Using a round cookie cutter in the size of your choice, cut out as many rounds as you can.

Spoon filling into the middle of the dough and top with a generous amount of cheese, ensuring you have enough margin around the edge of the dough to fold it over and seal the empanada. Fold in half and crimp the edges. Repeat these steps with all of the dough rounds, and repeat the rolling out & cutting process until there is no leftover dough.

If you are baking the empanadas, heat your oven to 400° F. Brush the empanadas with oil prior to baking, and bake for 10-15 minutes.

If you are frying the empanadas, heat a small, deep pot with enough oil to submerge a few empanadas. Heat the oil to 350° F, and fry the empanadas until golden brown, in small batches of 2-3. When they're cooked through, transfer to a wire rack or a plate lined with a paper towel to drain.

Eat these empanadas on their own or dip into our crave-inducing guacamole, salsa, or queso.
Share What You Make
TAG @YOQUIEROBRANDS ON INSTAGRAM WITH YOUR CREATIONS! WE LOVE SHARING WHAT YOU MAKE WITH THE COMMUNITY!
we can't wait to see!