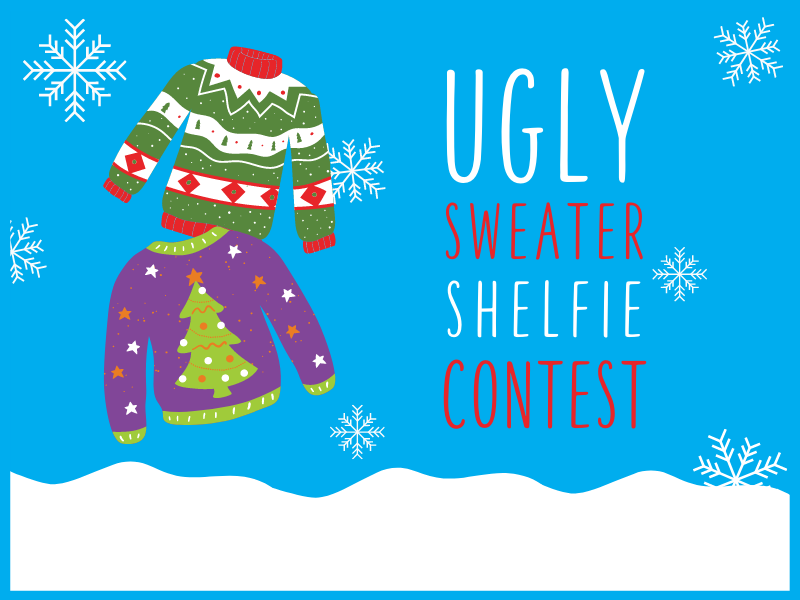 #UglySweaterShelfie Contest – Win A Holiday Party Pack!
Q: What is a #UglySweaterShelfie?
A: It is simply a selfie photo, wearing an ugly sweater with ¡Yo Quiero! Guacamole, Queso, or Salsa on shelves at your local retailer!
Q: How do I enter ¡Yo Quiero! Brand's #UglySweaterShelfie Contest?
A: Take a "selfie" in your favorite ugly sweater, with ¡Yo Quiero! Guacamole, Queso, or Salsa (either in a store or at home)
Post your picture on one of your personal social media account feeds (every platform gives you an additional entry!)
Tag @yoquierobrands AND use the hashtag #UglySweaterShelfie
Q: What if my social media profile is private? Will my post be entered into the #UglySweaterShelfie contest?
A: Unfortunately, no. If we can not see your post – it will not be entered. Please make sure to post on social media channels that are set to a public profile.
Q: What if I am uncomfortable/unable to go into a grocery store to take a #UglySweaterShelfie?
A: You can take one at home in front of your own fridge! You can order ¡Yo Quiero! Guacamole, Queso, and Salsa through multiple grocery pick up or delivery platforms – check out the store locator on this page for help.
Q: How do I earn multiple entries?
A: Every post on a social media feed counts as one entry! If you want to earn more entries, you can post on multiple different social media platforms – and/or you can post more than one time on a single platform! Story posts are wonderful (and we are grateful for each shoutout!) however we have a harder time capturing these as entries for this contest and therefore a feed post is required.
Eligibility Requirements & Additional Information:
Open to US residents in the continental United States of America, who are 18+ years of age by the time this contest opens.
The contest opens on 12/14/20 and concludes on 12/31/20.
This contest is sponsored by ¡Yo Quiero! Brands 3810 TX-114, Rhome, TX 76078
One winner will receive a ¡Yo Quiero! holiday party pack including a selection of our Guacamole, Queso, and Salsa.
A winner will be selected at random and contacted via DM on Facebook or Instagram.
The winner will be announced on this post and on ¡Yo Quiero! Brand's social media platforms on or before January 1, 2020.