Whole30 Taco Stuffed Sweet Potatoes
These Taco Stuffed Sweet Potatoes will take taco night to a new level! This recipe is incredibly delicious, very satisfying, healthy, family-friendly, and an easy Whole30 Mexican dish! Tender sweet potatoes pair perfectly with spicy taco meat, onions, and ¡Yo Quiero!™️ Original Guacamole.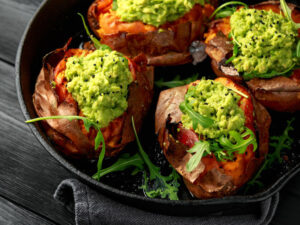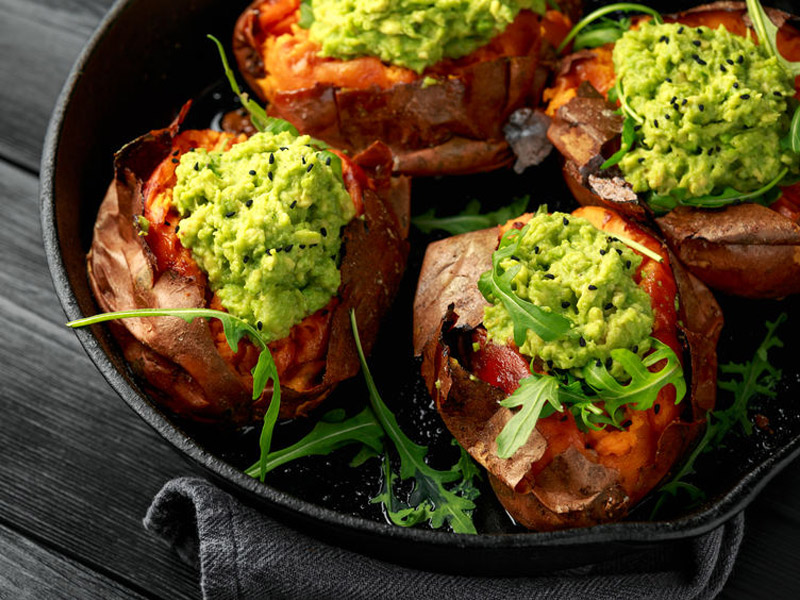 Taco Stuffed Sweet Potatoes
These taco stuffed sweet potatoes are such an easy, healthy weeknight meal! Plus they're healthy, paleo and whole 30 compliant.
Ingredients
4

Sweet Potatotpes

1

tbsp

Olive Oil or avocado Oil

1

lb

Ground Turkey

1/2

Yellow Onion, diced

1/2

cup

Water

2

tsp

Chili Powder

1

tsp

Ground Cumin

1

tsp

Garlic Powder

1

tsp

Salt

1/2

tsp

Ground Black Pepper

1/4

tsp

Red Pepper Flakes

1

pkg

¡Yo Quiero!™️ Original Guacamole
Instructions
Preheat oven to 400°. Line a baking sheet with aluminum foil.

Wash sweet potatoes and scrub thoroughly to remove any excess dirt. Dry completely.

Poke sweet potatoes all over with a fork and set on baking sheet. Bake at 400° for 45-50 minutes, until sweet potatoes are tender and easily pierced with a fork.

While the sweet potatoes are baking in the oven, preheat a large skillet over medium heat with olive oil or avocado oil.

Add turkey and onions and cook over medium heat, breaking up the turkey as it cooks. Cook for 8-10 minutes, until turkey is browned and no pink remains. Drain any extra fat.

Add water and spices to the skillet and stir to combine. Cook for 2-3 minutes, until water is absorbed by the meat. Remove from heat and set aside.

To assemble, cut the warm baked sweet potatoes down the center lengthwise. Fill with taco turkey meat. Top with diced tomatoes, guacamole, and additional cilantro. Serve immediately or store separately in airtight containers in the refrigerator until ready to reheat and eat.
Share What You Make
TAG @YOQUIEROBRANDS ON INSTAGRAM WITH YOUR CREATIONS! WE LOVE SHARING WHAT YOU MAKE WITH THE COMMUNITY!
we can't wait to see!